Why do Usability Testing? 4 Reasons to Make It a Priority
Never develop a new product without usability testing. Keep reading to discover the benefits, plus practical ways to implement tests that pay off.
This article explains:
How usability testing saves development projects money and time in the long run
How it strengthens a product's potential to succeed at market
The role of interactive software prototypes in usability tests
How to make usability testing feasible for a project of any size
---
The success of every product at market is dependent on the user's experience with that product. Products that win are those that help users accomplish what they desire in a better way than competing products.
Because UX is at the crux of what makes a product successful, it's important to ensure the user is the center of every design and development decision you make from the beginning. It's not enough for a product to meet end-user needs; it must do so in a way that is intuitive, easy, and beautiful. Every product needs to offer an exceptional user experience.
Usability testing is a core component of effective user experience design. It allows you to vet assumptions, back up research, and avoid unexpected setbacks or surprises during late development or go-to-market. Usability testing is the only way to make sure a product will provide what people are willing to pay for.
What Is the Purpose of Usability Testing?
You've probably heard the term "usability testing" numerous times, but what does it actually entail? Why should you do usability testing?
---
Usability testing refers to the process of intentionally studying potential end-users as they interact with a product prototype before fully developing and launching the product.
---
The purpose of usability testing is to ensure the plan for a product's functions, features and overall purpose are in line with what users want by observing how real-life people use the product.
---
Usability testing allows you to learn things about user behavior, needs, and expectations upfront. The insights and benefits gleaned from usability testing are essential to informing product development. Observing the way someone interacts with your product interface provides you with an opportunity to course correct your design and set development priorities from the get-go.
UX blogger Sarah Elson, from the product growth team at LambdaTest, sums up the connection between usability testing and UX in her article about web development last year:
"User experience is one of the most important if not the most important aspect of making an online business successful. And that's what is measured under the scope of usability testing."
Whether you're building a website, an app or any other digital product, the principles behind usability testing hold true.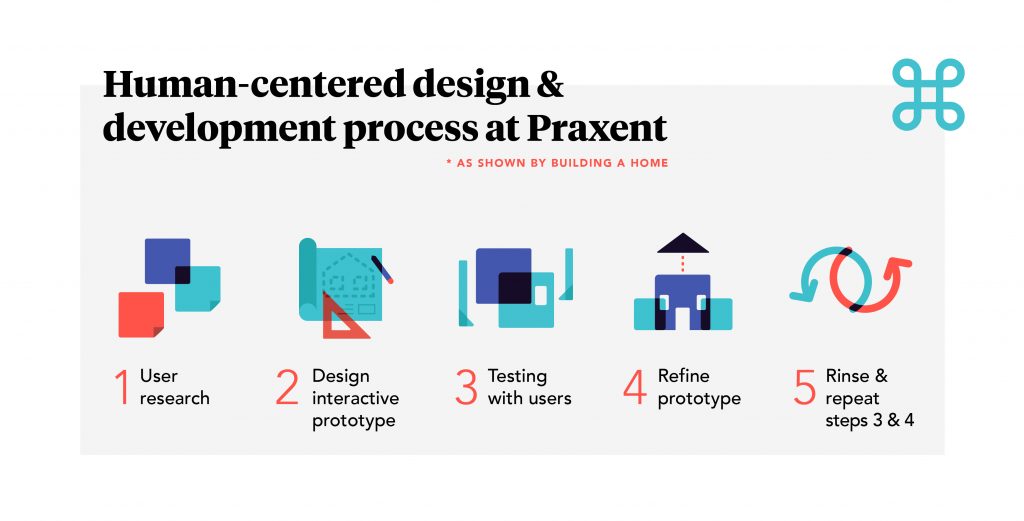 Building a product is like building a house: user experience design, including usability testing, lays the foundation. Without it, the house will collapse.
---
4 Big Advantages of Usability Testing
From saving time and money to ensuring user satisfaction and adoption, here are four of the most compelling benefits of usability testing before creating a new product.
1. Save Thousands of Hours
By usability testing first on a prototype, you can gauge user reactions well before you begin development. This saves projects from wasting a huge amount of valuable hours trying to fix user experience pitfalls after they've already been coded and deployed.
Usability testing allows you to validate at a very basic level whether or not your product is feasible to execute. It also enables you to identify potential issues upfront, so you can make smarter product decisions and iterate on changes quickly.
>> User research is not optional, but it can be economical. Learn how to get started with practical user research.
Usability testing also helps product managers understand exactly what needs to be built. Unambiguous understanding of the product's purpose, function and features allows product managers to equip designers and developers with clear direction. It also allows teams to develop accurate timelines and cost estimates.
By understanding what features and functionality — as well as changes — are needed in advance, you can streamline your entire workflow across teams saving thousands of hours in the process.
2. Save Thousands of Dollars
One of the big advantages of usability testing is that you'll save not only time, but also money. Think about the costs associated with development hours, or with an issue identified late in the game that needs to be corrected quickly and retroactively.
It's always better to build something to an ideal function than to "fix it," and upfront testing allows you to identify changes in advance and mitigate unexpected costs later on. Not to mention it helps avoid frustration!
Usability testing also helps identify which product benefits and functions are most desired by the user and most critical to business success. Prioritizing development decisions based upon actual data and feedback, rather than playing a guessing game, allows you to make smart decisions from the get-go. Smart decisions mean you can avoid expensive and large-scale feature changes down the road, building only what works from the beginning.
Add to all this the fact that usability testing is doable for projects of almost any budget. You can solve the most pressing usability problems with a single round of testing on only five real people.
The savings are clear. In the short term, you save money by fixing UX problems before they happen. In the long term, your business will benefit from usability testing by helping customers achieve their goals better than the competition.
3. Validate and Adjust Features Based on Hard Data
If you've decided to launch a product, presumably you have done some research to verify whether the product is a good idea. But no matter how prepared you are, sometimes what you've studied doesn't match what actual users expect.
One of the core purposes of usability testing is that it allows you to validate product plan using hard data and real evidence.
Up to 64% of software features that are built are never or rarely used. To avoid wasted resources, it's absolutely essential to confirm that users will in fact desire the features you plan to build. Unearthing hard data about what works and what doesn't work through usability testing allows you to create product roadmaps with confidence.
4. Ensure Your Product Will Succeed Before Going to Market
Usability testing is not only an advantage when vetting your product's functionality and features, it also serves as a key indicator of its success in the marketplace. You can validate your assumptions and determine whether users will find value and utility in your product. You can identify any red flags or issues in advance, rather than after you launch, and avoid costly or upsetting problems.
Usability testing also allows you to see how easy (or difficult) your product is to use, providing clues about its potential adoption rate.
No one will use your product if it's not easy or intuitive or if it doesn't solve the problem it's intended to. User testing allows you to confirm all this in advance, so you can go to market with confident expectations of how your product will perform.
What Is An Interactive Digital Prototype?
A prototype is a functioning model of a product, capturing both how it will look and work. Prototypes are different than actual products in that they are built quickly, in advance of final development.
A prototype allows end-users to experiment with a test version of the product to explore the features, functionality, and the interface's ease-of-use. While a prototype isn't exactly the same as the final product, it's close enough to serve as a starting point for testing and feedback.
By observing potential users interacting with a product, you can learn firsthand how it will work. You can in turn allow the results of usability testing to guide you to definitive answers to questions about your product:
What will it do?
What features are most important?
What should it look like?
How much will it cost to build?
How long will it take?
After a round of usability testing, your team will revisit pros and cons of product function, improving the prototype and product design based on test results. The cycle repeats itself as long as budget and timeline allow before development.
Conducting usability testing enables you to effectively iterate and make improvements to your product before and during development, reducing overall costs and increasing success when it's time to go to market.
Anyone creating a product should be aware of the importance of usability testing, and plan to complete this in advance.