ABOUT | WHAT TO EXPECT
Our dedicated teams are dedicated to your success.
From demonstrating business value at every stage of the engagement to maintaining total transparency with your team to delivering software that helps you remain relevant and compete with confidence, we'll always treat your project like it's our top priority. Because chances are, it is to you and your business. 
Here's what you can expect when you work with us.
How we're different.
We're big on small.
Large software projects—the ones where your team works on a release for six months or more before launching it—are 90% more likely to fail, primarily because of three things: poorly formulated strategy, design flaws, and unchecked technical complexity.
We scope the smallest possible projects that more quickly deliver the most value for your business. So you can invest a little at a time and harvest big dividends.
We don't like waste.
Many companies have built software applications that no longer meet customer expectations. We help companies modernize those applications so they can remain relevant against born-digital competitors.
However, when it comes to modernization, most people think they need to rebuild their entire system – and you already know our thoughts on large software projects…More often than not, a user interface refresh and some technology upgrades can make your existing software unrecognizable. Better yet, nothing is wasted. This evolutionary approach makes it possible to modernize one module or feature at a time, accelerating your ROI while simultaneously reducing your risk.. No waste, check. Accelerated ROI, check. Reduced risk, check.
I would be surprised if, in the first 12 months, we didn't have at least a two to one ROI…When the UI/UX is released, it will absolutely be a completely new experience that will be worlds better.
SVP Strategy, Benefits Administration Company
I haven't worked with a more responsive third-party vendor than Praxent. They're not just responsive, they're proactive, which was an incredible benefit to the engagement as a whole. They would come to me anticipating potential issues that we were able to tackle beforehand because of the thoughtfulness of their engagement
Senior Business Development Analyst, Energy Provider
We manage risk.
Your needs are complex. This is a high-stakes project with many moving parts, all of which involve some level of risk.
Our highly conscientious team will look around the corner for you at every stage of the engagement. What are we looking for? Program risk, technical risk, user adoption risk and stakeholder alignment risk. Our chairs don't recline. We'll lean forward and into this with you. And we'll respectfully challenge you to make sure you're making the best financial decisions that mitigate risk not only to you but for your customers.
We're transparent.
Without clear information it's impossible to make informed decisions. Budget, scope, momentum, spend—each project lever impacts the outcome in a different way, and you need to be able to see them all clearly at all times.
Our proprietary approach to project health reporting, called CommandView®, is a weekly report that covers project momentum, budget health, scope management, and rate of spend.
We'll ensure total transparency by holding weekly conversations with you and your team. Track the pace of the team's progress and see the impact of directing the team's focus to new priorities. Manage your budget by deciding which features to prioritize and which to save for later. Or work backwards and use your target budget to help you prioritize your project scope. Get a sense for your rate of spend, with invoice projections to help your forecast cash flow.
They have effective processes in place that allowed us to closely monitor the project and were very transparent in their approach. We gave them a tight budget on this project and they managed to come in below it — while launching ahead of schedule.
Vice President, WCRA
We design to build.
Some firms are design only. Others just do development. Unfortunately, these two firms' intentions are often at odds with one another.
The designers might blow you away with great designs, but it's not until you approach the developers that you find out the designs aren't feasible or will be too expensive to build.
You shouldn't have to lose sleep over trying to integrate these two work streams. Our team does both—we design to build.
That means all of our upfront design efforts are geared toward the build phase, with designers and engineers involved collaboratively in your project from the beginning.
We set realistic expectations. We make sure there are no surprises. We deliver on time, and we never exceed your budget.
We're flexible and collaborative.
We work in the way that's best for you, not the other way around.
Some clients want to be in every standup, and some clients only want to see demos. We are completely open to however you want to work with us.
Sometimes we integrate with your team. Sometimes we integrate as a coach to "up level" your team in a collaborative and nonthreatening way. We understand you might already have developers, and we're not here to ruffle any feathers.
You're trying to drive innovation at your company, and it's extremely important for you to get everyone on board, so we'll help with that too. Our test and validate process is highly iterative and ensures all stakeholders feel heard and that their input is valued.
Praxent knew from experience exactly what resources we needed to achieve our goals. They assembled a flexible team with complementary skills [and] considering all the moving parts, this was a project management masterpiece. Besides our group, there were other internal tech teams, outside consultants and branding agencies, and a new engineering team who were touching the project on a daily basis. Praxent did a great job of keeping us organized.
VP of Product, Bungalo
I was very impressed by the level of attention they devoted to us. I know they have bigger clients with bigger budgets, but they worked hard to deliver our project on time.
Faculty Director, University of Texas
We have dedicated teams.
When you work with an outsourced firm, consistency is key. You want to know that the team who's working on your project stays as focused on it as you are.
Nothing kills productivity like context switching. From research, we know that with every new work stream a team or individual is assigned, their productivity decreases by about 15%. That's why our teams only ever work on one project at a time. They are pod-based and have plenty of oversight to make sure the levels of quality and focus remain consistently high.
Every client is important to us, and every project is a priority for us, especially yours.
We won't hold you hostage come handoff time.
We've heard and seen firsthand countless horror stories of clients being held hostage by outside providers attempting to lock them into long-term relationships. Things are going along fine until all of a sudden they turn into a black box and stop sharing things with you.
Your software application is one of your biggest business assets. It's our job to empower you to take it over, manage and maintain it if and when it becomes appropriate for you to do so.
We do this by providing evolutionary documentation with every release. We deploy the source code to a repository that you own. We create videos to explain and demonstrate the key details of the build and deploy process. And, when the time is right, we willingly remove ourselves from the deploy process so you can own and control it.
And if you would prefer to rely on us to handle your management and maintenance(it's a lot of work after all), we'd be happy to be your partner indefinitely.
The handoff was as smooth and as well done as I could have imagined.
The project management team kept everything as up to date in terms of the documentation as possible. People made themselves available to ensure that if we had questions or were looking for information, they knew where it was and they provided us the guidance.
Managing Partner, Pharmacy Benefits Management Company
We know your industry.
You don't have to waste time and money waiting for us to learn your industry, and you don't have to worry about teaching us compliance.
We're experts in financial services and fintech. We've built enrollment workflows, broker portals, sales enablement tools and more with a specialization in insureTech, lendingTech, wealthTech, and realTech.
When you work with a team that already understands your industry, it costs you less to get it done, your solution is better, you spend less time on hand holding, and you gain knowledge of industry best practices.
OUR CORE VALUES
We not only stand up for our values, we celebrate them.
We get together annually for our Praxies Celebration and recognize those who have been nominated by their
colleagues for exhibiting our core values.
Here's how we'll work together.
Navigate through the different stages of your project.
Pre Project
Day 0
Submit an Inquiry
Give us a high level overview of the project and on average we'll follow up within 2 hours to schedule a discovery call.
Day 1
30-minute Discovery Call
Our first call is to determine mutual fit, we'll follow up with you within one business day to let you know we're ready to move forward.
Day 3
90-minute Deep Dive
Gather your stakeholders for our second call—a deep-dive meeting to probe into the challenges and opportunities that lie ahead. We'll come prepared with questions about what success and failure looks like and ensure your team is in alignment from the get-go.
Day 10
Proposal Presentation
Within a week of the deepdive, we'll have our third call—a smart proposal that's personalized to you. We might even challenge you by bringing up new possibilities and ways of thinking about things that shift your paradigm.
1 Week Later
Acceptance and Kickoff
You came to us because you need to move fast and we realize the clock is ticking. That's why we get started on your project right away—within a week of you signing the contract.
During Project
Sample
2 Week Meeting Cadence
We'll meet with your team as often as needed. Most often we find our clients have a meeting either weekly or twice weekly if design is underway.
Meeting 1
Sprint Planning & Review
An Agile Scrum development ritual, we meet to define what can be delivered in the sprint and how that work will be achieved.
Meeting 2
Design Review
Designers work a few weeks behind development and will meet with you to review and get feedback on their designs before they're developed. Depending on feedback there may be a second meeting to approve the second version.
Meeting 3
Sprint Demo
Another Scrum ritual, the development team demos the work completed in the sprint and confirms your acceptance of the new features they have delivered.
Post Project:
Setting You up for Success
Sometimes success means handing the project over to your team and ending the engagement.
Sometimes it means we assist your team with maintenance.
Sometimes it means putting the relationship on pause until you need us for new features.
Sometimes it means we continue working to provide constant improvements to your product.
We're committed to delivering whatever
success looks like for you.
DOWNLOAD
Pricing Guide
To give you an idea of what your investment might look like, we've put together a downloadable pricing guide that includes pricing estimates by product type, set-priced starter engagements and information on what impacts the price of your product and tips for saving money.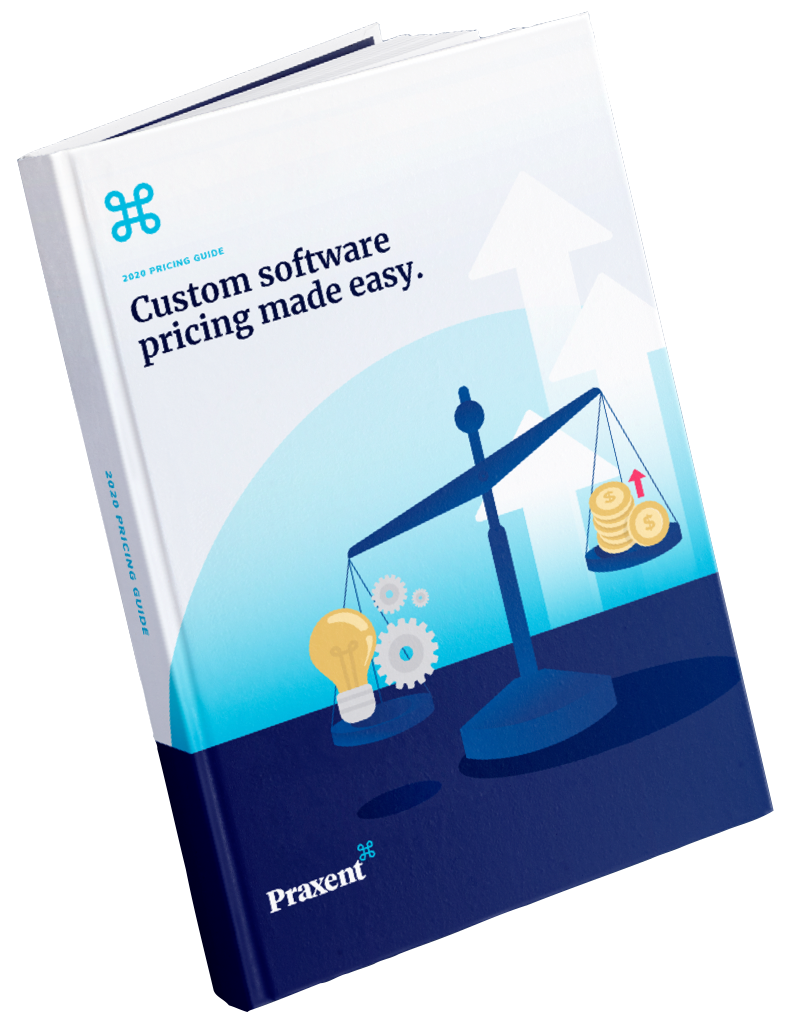 Let us help you modernize, rather than rebuild, your outdated customer-facing software applications.
Dramatically improve your digital experience. Serve your customers better. Increase retention and profitability.