DESIGN | UX/UI DESIGN
Create a seamless user design experience at every stage of your customer journey.
Our user experience design process:
Drives user adoption + engagement
Reduces friction +
increases conversion
Differentiates +
ensures retention
How to improve user experience?
2
getting as close to the final product as you can.
3
Creating the kind of user experience that will help your company gain a competitive advantage.
"User experience design only matters if you're a big tech company. It's more of a luxury in our industry."
As a leader in financial services, you strive every day to serve all of your "users"—be they employees, brokers, clients, or customers—well.
This used to be as simple as offering more or better features than your competitors.
Now, innovation-led big-tech brands have changed the rules of the game by offering personalized products that anticipate a user's every need. Which has led to increased customer expectations and new competitive pressure.
So how can you, as an established company, respond to these expectations and gain a competitive advantage?
Solution:
By providing the same level of experience for your users as the digital platforms where they spend most of their time.
To do this, you need to be able to intuitively understand your users' needs, wants, and demands—and design an experience that seems like it's custom-made for them.
You need a UI/UX design company with proven experience in your industry to help you design exceptional experiences at every stage of your customer journey.
What is UI/UX design?
What is UX Design?
UX stands for "user experience." UX design, then, refers to the act of designing a product around the end-user and their interaction with the product. The aim of UX services is to offer the best product possible, and to meet user needs and goals in an intuitive, painless and even enjoyable way.
UX refers to how the user interacts with the application or product, focusing on not only what a product looks like but how it will be used. UX plays a major role in a product's success.
What is UI design?
UI stands for "user interface," which is a way of describing the technology that the end user interacts with. UI design services are defined as the design of those user interfaces, with the end goal of optimizing that technology's usability and user experience.
Why prioritize UI/UX design?
UI/UX design is arguably the most important aspect of new product design. The success – or failure – of a product ultimately rests on if people will buy it. If people will buy it is determined by the product's ability to solve a fundamental problem they have or its ability to help them accomplish a goal, or a job to be done.
The more effortless you make the user's journey, the easier it will be to obtain a steady stream of users and reach your business goals. This is why it's so essential to talk, listen and design for users and to hire an experienced UI/UX design agency. If design is neglected or deprioritized, more likely than not your product will fail.
What do UI/UX design services entail?
UI/UX design starts at the very beginning of the project and continues throughout development. It is, above all, an iterative process. Since good design hinges on obtaining a holistic understanding of how a user will interact with a product, UI and UX services require a good deal of research. In order to meet or exceed user expectations, the hallmark of a good user experience, it's essential to have a deep understanding of the user. Good UI/UX design services include the following:
Interaction design

Wireframes
Prototype
Renderings
A/B Tests
Information architecture
Scenarios
In addition to researching, iteration, and providing opportunities for users to test the product along the way, a good UI/UX design company also relies on effective communication across teams. Talking about product goals and user needs is essential for achieving the design needed to make products that provide business value and achieve results.
Will your business benefit from UI/UX design services?
The answer to this question is "yes." Your business will benefit greatly from UX and/or UI services, and its value cannot be downplayed. As mentioned above, the success of your product and whether or not you achieve your business goals is highly dependent on your design. A product that "wows" users by meeting their needs, wants and demands is the key to a successful business and sustained sales. Good UI/UX will:
Solve user problems and alleviate burdens

Save users time
Reduce financial risk for users
Instill confidence
All of these will keep a user coming back for more, whether that be in the form of repeat purchases, upsells, referrals, or the attraction of new customers over the long term.
What is the best way to get started with UI/UX design?
The first thing to do when getting started is to hire a UI/UX Design company that is able to meet your unique needs and help you achieve your goals for design. A team that prioritizes communication and asks questions will help facilitate user-friendly development. UI/UX design requires the ability to do the following:
Think critically

Challenge assumption
Understand business goals
The best way to get started is to ask your UI/UX design agency the right questions. The questions asked will help determine whether a provider possesses the characteristics mentioned above.
Good user experience design matters.
Builds trust between you and your users, especially when it comes to issues like security and accessibility.
Is personalized for your customers, they feel like the product is "designed just for them" – increasing customer satisfaction and retention.
Is seamless across the customer journey, powered by intuitive design and robust backend integrations
Increases customer utilization of your product, which frees you to spend more time serving them and less time fielding support calls.
Decreases on-boarding time for new users and provides delightful first interactions with your company.
Helps you compete with confidence and grow.
Is compliant and secure but doesn't affect your user's experience.
How to design the best possible user experience at every stage?
Match user expectations
Most people don't know what they want when it comes to experiencing an application or platform, much less how to verbalize it. They just know what they've seen on the sites they use most often.
Match user behaviors
When you invest in user experience (UX) design services, you can develop the best product possible with the most delightful, intuitive experience possible—because you know what your users want and need. This leads to increased customer retention and profitability.
Discover how to become an experience-centered product company
I would be surprised if, in the first 12 months, we didn't have at least a two-to-one ROI. In fact, it will likely be better than that because our UX was really bland before this. Now, it is legitimately night and day. When the UI/UX is released, it will absolutely be a completely new experience that will be worlds better.
SVP, Strategy, Benefit Management Solutions Provider
The team at Praxent told me the top five things we should be doing to improve user experience. They listed major, high-impact things but also low-hanging fruit that could be fixed without pulling everything out by the roots and starting over again. I trusted they understood and were experts in UI/UX. I also trusted their project management expertise and the plan they had for how to move forward. Choosing them was a no brainer.
VP of Client Services, Benefits Administration Platform
If your company isn't investing in user experience design, you're already behind.
Companies that prioritize CX generate 60% higher profits than their competitors.3
81% of companies with an excellent customer experience are outperforming their competitors.4
A 2% increase in customer retention has the same effect as decreasing costs by 10%.3
Companies with a highly rated user experience achieve an average 211% return over the S&P 500.2
We'll help you identify metrics like these you can capture to quantify the value of UI/UX design services for your business.
You don't have to be an expert in UX design to create an exceptional user experience.
Whether you're planning to build new software or rebuild or modernize your existing software, designing a good experience for your users is vital. Let our UI/UX design agency work with you to conduct research that results in working prototypes—so you know exactly how to design an exceptional experience at every stage of your customer journey.
Here's how it works:
START WITH STRATEGY
Better UX comes from research, not guesswork. Through user research and user testing, we can learn where your users get frustrated, confused, or need reassurance. Our firm's UI/UX design team listens and analyzes user behaviors to reveal real opportunities for your business.
BUILD A PROTOTYPE
We use the insights we gained through research to build a working prototype that allows both stakeholders and users to give us real feedback. We then find the best improvements, validating every idea so you make just-right investments, every time.
BE DEVELOPMENT READY
Now that you have an interactive, working prototype of your UI/UX design, your company can achieve total alignment and move confidently into development. You can save time and money by building exactly what users want the first time, enabling you to improve user productivity and efficiency and increase customer retention and profitability.
Validate your design through rapid prototyping
In a hurry to launch or update your digital product? What if there was a way to quickly validate your design first?
Reduce risk and save time and money in development.
Establish the design direction of your project by visualizing and testing your idea before you build or update it.
Make more informed decisions, and launch your minimum viable product or enhance your existing product much faster.
With an interactive ClickModel® UX software prototype, you can build with confidence.
Start with a UX Audit
Product not performing? Don't guess. Know how to improve your user experience.
The purpose of a user experience (UX) audit, also known as a heuristic evaluation, is to measure aspects of your user experience against industry best practices based on user patterns.
You'll know what to fix and what not to fix about your user experience design quickly, based on objective data. So you can address them in house or as part of a longer engagement.
DOWNLOAD
Pricing Guide
To give you an idea of what your investment in UI/UX design services might look like, we've put together a downloadable pricing guide that includes pricing estimates by product type, fixed price starter engagements and information on what impacts project budget and tips for saving money.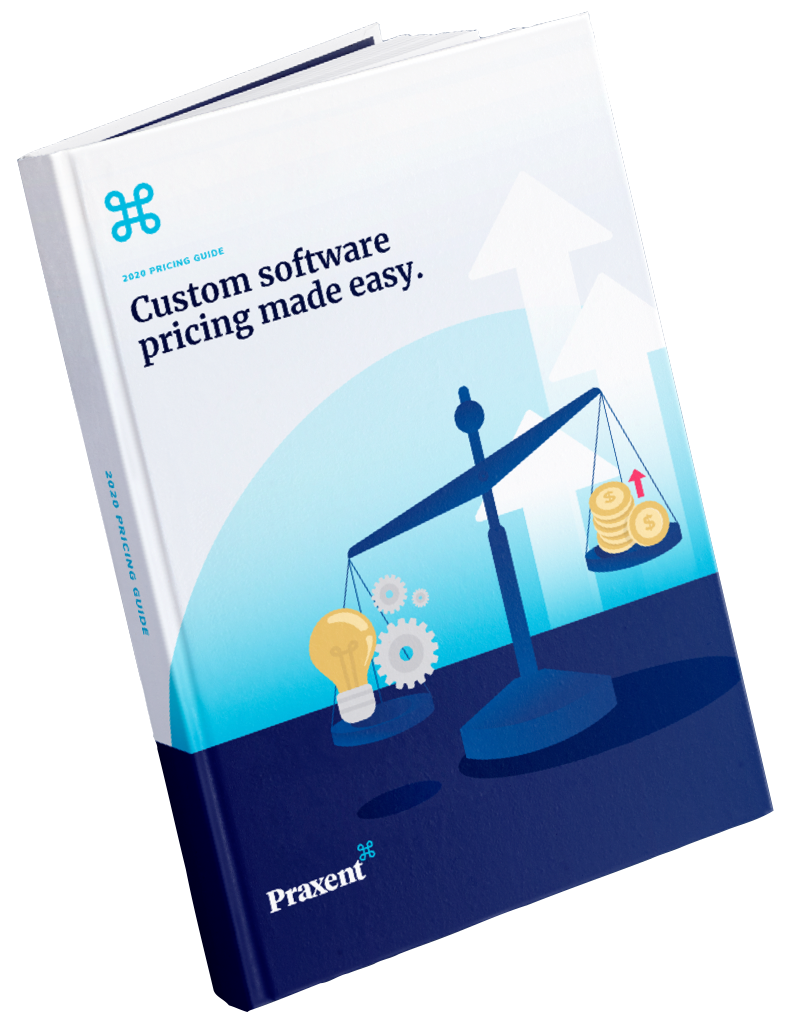 Let's face it – your customer's expectations are only getting higher and your development backlog isn't getting any smaller.
You need a trusted partner to level up your CX and instantly extend your specialized development team.

100+ designers & developers
Best Places to Work in Fintech
We specialize in financial services.
If you have built software applications that no longer meet your customers' expectations, we can help you modernize them so you can remain relevant against born-digital competitors.
What You Can Expect
Successful engagements following UI/UX design services include:
Direct access to an empowered project champion and any of your development resources
Tailored engagements across our Design and Develop services.
Investments of $40K to $250K, including strategy and design.
Let's design exceptional user experiences for every stage of your customer journey.
See how you can delight your customers and grow your business.
Learn More About Our Agency's Expertise in User Experience Design
Finopotamus has assembled a panel of experts in a recurring series, The Industry Leaders Forum (ILF). Each…
New borrower portal drives efficiencies, boosts conversions Praxent, a fintech product agency with more than two decades…
ISI partners with Praxent to help insurers boost efficiency, retention, and customer acquisition Praxent, a financial services…