What Are the Differences Between Web Development and Software Development?
If you are considering a career in the technology world, there are several different paths you can pursue. Two of the most important are web development and software development. Understanding the differences between these specializations will help you to determine which is right for you.
Understanding the Job of a Web Developer
If you seek a career that pays well, is constantly changing, and offers opportunities for advancement, consider becoming a web developer. Since this is the age of e-commerce when every business is striving to rise above its competitors' digital presence, this job type has a bright future.
In short, web developers construct websites and the applications that run on them. The majority of web developers focus on the databases and software that the end user does not see – the so-called "back end." However, some choose to work on the design and visual interface – the "front end." Those who want the best of both worlds do both as "full-stack" developers.
Whether working freelance or for a company, the day-to-day job of a web developer involves understanding what the client needs and making a product that meets those requirements. Multi-tasking is a must in this busy specialty, which usually involves juggling multiple projects while meeting hard deadlines. In general, a web developer's responsibilities might include the following:
Using programming or scripting languages such as JavaScript to write code.
Prototyping, planning and designing all components of an application.
Troubleshooting.
Testing features and running benchmarking tests to measure product performance.
Building and testing application program interfaces to enable data exchange.
Building, testing, maintaining, and updating databases.
In this career, self-employment as a freelancer as well as the ability to work remotely are prevalent.
---
Free Budget Planning Guide for Apps & Software
Dependable estimates are critical to making sure your app delivers a return on investment. When it comes to budget and timeline, application builds created around faulty guess-work are likely to fail.
Download our free whitepaper on how to accurately estimate cost-to-build, and learn how planning can be predictable as well as flexible.
---
Understanding the Job of a Software Developer
Software developers are some of the most sought-after professionals in the high-tech sector, with prospects that look rosy for the foreseeable future. A career in software development requires the perfect balance of creativity and technical skills, as well as the ability to understand the parameters of a project and to think outside the box in creating the end result.
Because these professionals are needed in a diverse spectrum of environments, the job description of a software developer is hard to describe. In general, however, it involves creating software programs for computers and associated devices that enable users to perform specified tasks. From playing games to handling taxes and budgets, software is the "why" that explains why businesses and consumers alike use computers for hundreds of tasks. Software development careers are sought after because of the competition among companies to create new apps, the healthcare industry's ongoing mandate to efficiently and securely address the needs of their patients, the burgeoning "internet of things" industry, and the ever-present requirements to advance computer security.
There are numerous skills necessary in this profession. A few of the most important include the following:
Ability to work independently and in groups to analyze needs, create databases, and flowcharts.
Ability to test, design, and develop software and applications from the ground up.
Troubleshooting.
Experience with Android, IOS, Java, Java framework, and JavaScript programming.
Ability to conduct research and consult with others about system and software changes and upgrades.
Thorough understanding of algorithms and data structures, software design, XML, and web services.
Many components combine in the job responsibilities of a software developer. If you are seeking a career that is constantly evolving in a highly competitive milieu, you couldn't hope to find a better option.
Software Development vs. Web Development: What are the differences?
Let's start with the similarities between web development and software engineering. A software developer builds desktop, mobile, or web applications. A web developer is, in fact, a software developer with a specialty in creating web applications. Each of these fields requires that you are proficient in three main skills:
Attention to detail. This is necessary in every facet of both jobs. You must be able to listen to and understand what a customer is looking for. You will probably also often use code that was written by someone else and will need to be able to interpret that developer's written instructions. Furthermore, writing code requires precise attention to every character you type. Even one error can cause your entire operation to fail.
Understand and follow patterns. To the untrained eye, code can look like nothing more than gibberish. Even a trained professional's eyes can glaze over from time to time, but it's important that you remain focused throughout your workday, able to differentiate among similar sets of code and to tailor it to the situation at hand.
Ability to write algorithms. Many complex problems cannot be solved in one line of code. Instead, they need to be broken down into smaller, more manageable chunks that can then be made into lines of code that the computer understands. This is an algorithm. In order to write one, you need to be able to take the often ambiguous instructions of a human being and convert them into concrete steps that a computer can follow.
---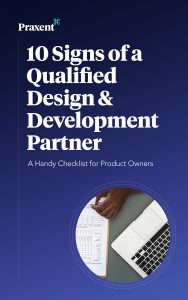 Building a new digital product or modernizing an existing system is a huge endeavor–only healthy teams of seasoned experts can properly manage the job with success and be trusted to help you shoulder ownership of the outcome.
>> Download the e-book for a helpful list of partner qualifications, from technical to cultural, and more.
---
However, there are important distinctions between the career requirements of a software developer and a web developer. Whereas web developers need only possess a few capabilities in order to write their complex code, software developers are expected to be proficient in a wide range of languages and other learned skills.
The paths to becoming qualified to do these jobs are also different. Becoming a web developer does not necessarily require years of classroom training. You can attend a coding boot camp, for example, and learn all you need to know in an intense and highly immersive yet shorter-term environment that is much less expensive than a college degree. By contrast, the more in-depth and integrative requirements of general software development usually mean that you will need at least a bachelor's degree in computer science. Most likely, you will also be expected to obtain an externship or another practicum before being considered for hiring.
The bottom line is that both web development and software development are job vocations that are booming in this information-rich economy. Determine your budget and learning style to decide if you would prefer a shorter-term yet more limited skill set, or four years of college and a period of unpaid hands-on experience. If possible, talk to people in the field to get their perspective. Ultimately, the time will come when you will be certain of your goals as well as the steps you need to take to attain them.
Ready to take the next step in your software development career? Praxent is hiring.