SERVICES | WEB APPLICATION DEVELOPMENT
Your vision made real –
no ego, no hand-holding.
The right custom web application can help your business grow exponentially by deepening and enriching your relationship with your customers and scaling your operations. But this requires an in-depth knowledge of your business, and a thought partner capable of seeing the potential from your point of view.
Praxent's comprehensive web application development services begin with a series of in-depth discussions that lead to clarity and confidence as we co-create a rational approach. We build upon this with best practices developed over the course of our 20 year history.
Don't let technology hold you back. Break free and discover how the right custom web application development company can help your business grow exponentially.
From agile enterprises to visionary startups, Praxent helps service-based businesses with web app development.
PARTIAL CLIENT LIST
Don't just build a web app – build an innovation that amplifies your business.
Not all websites are created equally. Visitors today are sophisticated and expect a seamless and easy-to-use online experience. Settling for a subpar website is simply not an option. Slow load times, poor navigation, and dated UX will turn away users and harm your bottom line.
There are a lot of firms that can build you a web application. But there are few who can develop a game-changing asset that drives results. Over the past 19 years, we've honed our process to design and develop solutions that surpass our client's goals. We're a custom web application development company that gets it.
We understand your business needs and goals are constantly evolving. Whether you are a local business or a national brand, our web app development services are tailored to meet your requirements and exceed your expectations. We build apps that are fast, secure, easy to maintain, and have rock-solid functionality, and our team partners with yours through every decision to ensure the best results.
Schedule a call
"The level of sheer intellect shown in their way of thinking about problems added tremendous value and saved us time. Praxent thought through all issues ahead of time before letting us run into them."
LYNDA ATTAWAY, FORMER SVP, OPERATIONS & IT, NRG
"Stakeholders anticipate the visual appeal of the new designs to be above and beyond the current product. Praxent has maintained a concise, clear communication style throughout the engagement. Their expertise allows them to provide useful insight, and their detail-orientation stands out."
CAROL ALTMAN, SVP STRATEGY, BENEFIT HARBOR
Praxent trained us well and gave us all of the skills we need to be successful. The internal UX team is now skilled enough to improve CX on their own. Since working with Praxent, mores users can access the self-service, and call rates have decreased, signifying an improved UX. Praxent's team was friendly and easy to work with. They're highly recommended.
KEN IVIE, SENIOR IT MANAGER, TEXAS MUTUAL INSURANCE
The body of work they produced under our circumstances was no joke; they did a fantastic job. Although we had so many stakeholders with varying cultures and priorities, Praxent's team was helpful in mediating between our partners.
BEN GAMMON, VP OF PRODUCT, BUNGALO
Praxent gives us weekly updates, so we always know where we are. They've always hit their dates and goals. I couldn't have asked for better communication, and the project is exactly what we were expecting it to be. They've blown us away with the design, and truly listened to what we and our customers said. It's a great product that they're rolling out. It's going to be a huge game-changer for our company.
CAROL LANGE, VOICE OF CUSTOMER, SIGNATURE HOMES
One partner for all your needs.
To get a product that meets today's visual expectations and standards for web applications, you could seek out a visual designer, an information architect, a content strategist, a user experience consultant and a systems integration specialist, and a developer to write the code. Or you could just talk to us.
Some shops just focus on look and feel, the "skin" that users see. Others concentrate only on development, the "code" side of technology that users don't see. Not that there's anything wrong with that. But from the start, we fell in love with the web and all of its potential.
Schedule a call
We've been doing this awhile.
And our clients trust us to keep delivering for them.
300 software transformations delivered since we started in 2000
Fast-moving team of 70+ designers and engineers
4.8 (out of 5 star) client satisfaction rating
A custom web app development company that gets the job done right.
Why are our clients so pleased with the results of our web app development services? We believe it's because of our ability to deliver innovative solutions, consistent service, and thoughtful consultation consistently. And we have our core values to thank for that. At Praxent, we live out our mission and values every day in the office, on our teams, and with our clients.
We continually remind each other of our core purpose: "clients first," "always deliver," "never settle," "do it together" and "own the outcome." You'll see it in everything we do, and you'll hear about it in our customer testimonials.
Schedule a call
Whatever you need, we'll build it with and for you.
We've worked hard to evolve in parallel with web technology, and we don't play favorites with platforms or tools – we play to win. We have the expertise and flexibility to leverage the right tool or technology for your specific job, every time. Because we are tech agnostic, you can rest assured the technology behind your web app is exactly the right fit. Nothing more. Nothing less.
Bespoke web application development that is built for amplified growth.
Platforms that provide information and enable secure purchases are only meeting the baseline expectations of today's users. They don't just want experiences that are secure, reliable and accessible – they seek out sites that are easy to use, intuitive, and aesthetically pleasing. We build destinations that succeed by exceeding users' overall experiences, whether it is shopping for information or for tangible goods. When you choose Praxent, you're choosing a partner that is as invested in growing your business as you are, and it shows in our work.
Partner with the web application development company that can navigate today's technological landscape with your business goals in mind.
Schedule a call
We specialize in financial services.
Learn more about our expertise in all things web app development
Finopotamus has assembled a panel of experts in a recurring series, The Industry Leaders Forum (ILF). Each…
New borrower portal drives efficiencies, boosts conversions Praxent, a fintech product agency with more than two decades…
ISI partners with Praxent to help insurers boost efficiency, retention, and customer acquisition Praxent, a financial services…
DOWNLOAD
Pricing Guide
To give you an idea of what your investment might look like, we've put together a downloadable pricing guide that includes pricing estimates by product type, set-priced starter engagements and information on what impacts the price of your product and tips for saving money.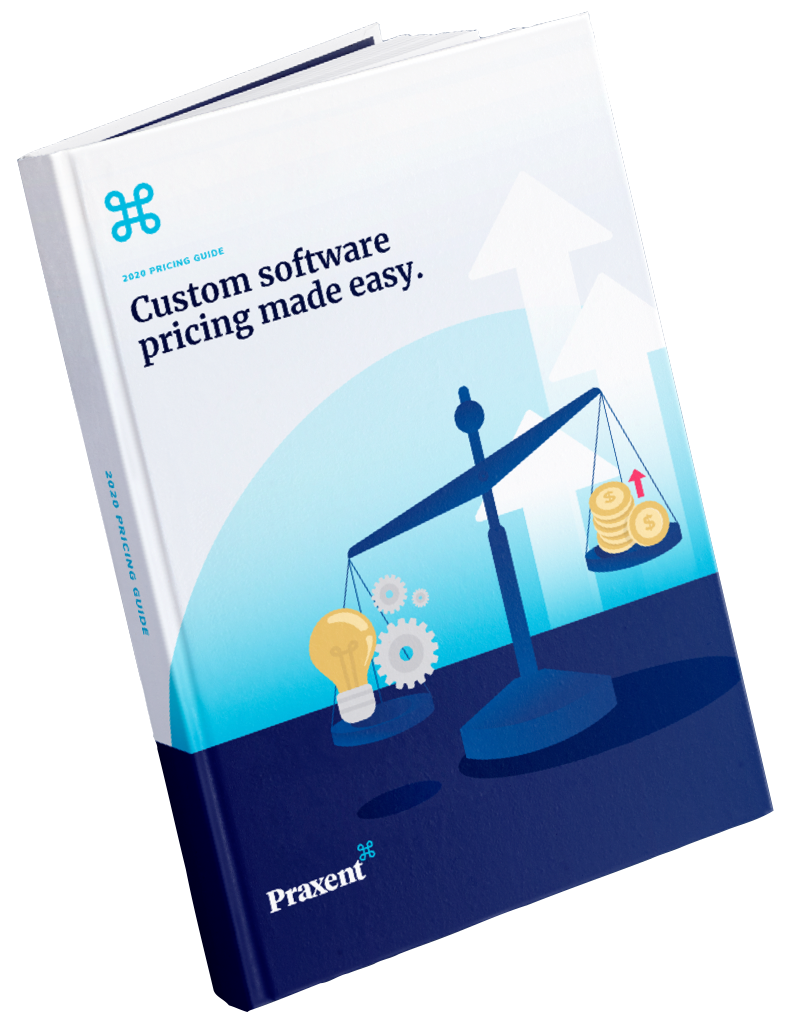 Let's develop your customer-facing software together.
See how you can delight your customers and grow your business.
Schedule a call