Dimensional Fund Advisors
Financial Advisor Portal Maximizes Profit Potential for Innovative Mutual Fund Company
Review Summary
Investment Management
Web Development, UX Design
Financial Advisor Portal
1,001-5,000 Employees
Austin, Texas
Praxent partnered with Dimensional Fund Advisors to build an ambitious new financial advisor portal, MyDimensional. The redesigned portal reimagines the advisor experience while streamlining operations, easing content management and reinforcing security.
Summary
The Problem
Needed to better support financial advisors with functionality in their wealth management offerings
Wanted to enable internal processes to scale internationally
Needed to centralize security management and streamline content publishing
---
How We Helped
DEVELOPMENT
CodePath assessment to evaluate technical priorities
Technical consulting on system architecture and DevOps
Agile coaching to drive development efficiency
Transparent reporting with our CommandView project reporting process
---
The Outcomes
Positioned to scale at minimum operational cost
Simplified wealth management processes for advisors
Greater profit potential through advisor retention
Enhanced advisor experience with digitally-enabled onboarding
Significant content management savings
The Problem
A wealth advisory firm based in Austin, Texas, Dimensional offers investors a diverse suite of high-performance funds. The funds are available exclusively through Dimensional-authorized financial advisors from around the world.
Dimensional recognized an opportunity to better support its financial advisors in the wealth management services they provide, while streamlining internal operations with digital technology. We teamed up with Dimensional to create MyDimensional, a web portal that transformed the customer experience for Dimensional advisors, enabling greater effectiveness and advisor satisfaction.
How we Helped
Accessible Content Management System Development
We transitioned Dimensional to a content management system designed not only to serve advisors, but also minimize operational effort.
Using an enterprise content management system, we integrated Dimensional's content production for faster, more streamlined publishing.
To minimize the cost of operating internationally, the solution simplified the formerly time-consuming task of personalizing content and data for each global region.
Digital asset management capabilities allow Dimensional to effectively manage videos and other high-bandwidth content.
The re-designed site architecture leverages an artificial intelligence search engine, enabling advisors to locate resources via free text search.
---
Reinforced Security with Identity Access Management
We reinforced Dimensional's new web portal with a customized identity access management system.
The system simplifies the process of managing permissions and users, globally.
User-friendly security measures make it easy for advisors to access region-specific content without compromising security.
A single sign-on solution allows users to move seamlessly between content and data tools within the enterprise CMS environment.
---
User-Friendly Technology for Fast & Transparent Agent Training
To help Dimensional facilitate a positive and optimally productive training experience for every new agent, we created an onboarding platform within the portal. The platform enhances the training experience for Dimensional's financial advisors, gearing them up for a winning start.
The onboarding platform provides new agents with visibility into the training process, from start to finish.
New agents can easily see their training progress.
Next steps are clearly presented at every stage of the process.
Results/ROI
Dimensional now empowers and assists financial advisors to successfully sell mutual funds and provide trusted counsel to investors. By removing friction from the sales process, our custom-built portal serves as a sales enablement platform, allowing financial advisors to make higher profits for themselves, their clients, and Dimensional.
Within the web portal, we added three custom-built tools that equip agents with the most powerful asset in the sales process: accessible data.
RETURNS WEB
Presents financial advisors with fund comparison data and performance analytics on all funds. The tool helps financial advisors easily view all data necessary for analyzing client portfolios and providing data-driven counsel.
FUND CENTER
Is an easy-to-search encyclopedia of all funds offered by Dimensional. A critical sales enablement tool, the Fund Center equips agents with all product information so they can offer their clients the most relevant options while maximizing sales potential.
MODEL CENTER
Simplifies and beautifies sales presentations for Dimensional's agents, allowing them to quickly create sample portfolios for potential clients in real time, straight from a mobile tablet.
Gallery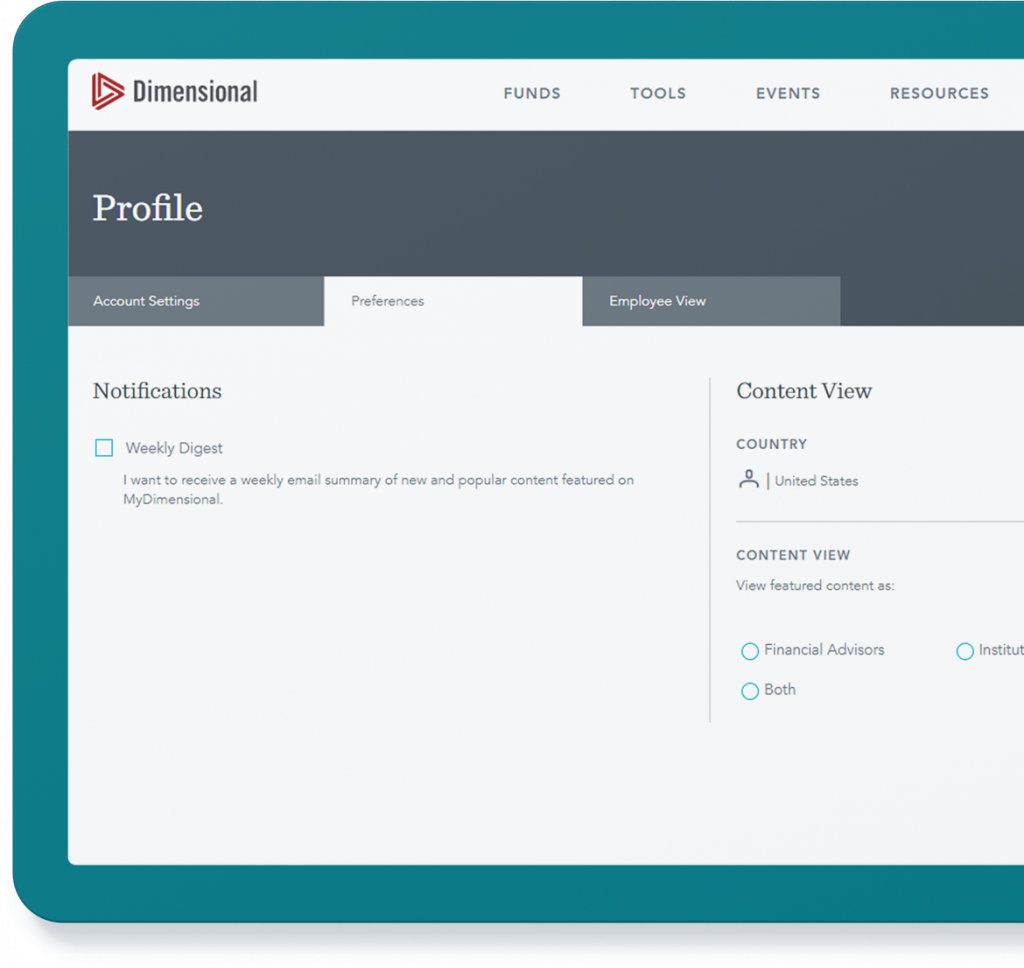 Are you ready to dramatically improve your customers' digital experience by modernizing, rather than rebuilding, your legacy software?
Schedule a free, no-obligation consultation today
Schedule a call
Join other insurance industry clients who are innovating within constraints to improve their users' digital experience.
Texas Mutual Workers Comp Insurance
Read case study
Austin Capital Bank
Read case study
Not sure if you're ready to start your project?
Check out our free guide, and set yourself up for success right now.
DOWNLOAD
The Four Reasons Software Modernization Projects Fail
(and Twelve Strategies for Success)