Reality Check: New Product Development is a Risky Business without the Right Safety Nets
Whether you're building a consumer-facing mobile app, creating a custom user portal or overhauling your company's internal operating system, successfully launching a new digital product from conception to market is a sophisticated endeavor.
In 2008, IAG Consulting reported that 68% of software projects fail. In 2013 and 2016 reports demonstrated similarly negative findings with almost half of all projects ending in failure.
While 2017 success rates improved, the reality remains the same: digital product development is a risky endeavor. Any business embarking on a development project for the first time should know exactly what they are getting into before committing to see it through.
This article outlines just a few of the assets at stake when you commit to development.
---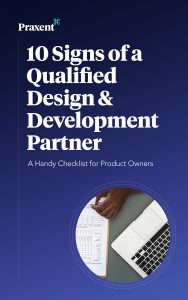 Building a new digital product or modernizing an existing system is a huge endeavor–only healthy teams of seasoned experts can properly manage the job with success and be trusted to help you shoulder ownership of the outcome.
>> Download the e-book for a helpful list of partner qualifications, from technical to cultural, and more.
---
Money, time and human resources
Custom software companies charge anywhere from $10,000 to $500,000 — sometimes more, sometimes less, depending on the project. In addition to the development price tag, you'll need to factor in the amount of time you and other leaders from your business will need to devote to oversight and working with the development company.
If your project involves updating your company's digital infrastructure, be aware that day-to-day operations may slow down during development before they can speed up with the finished product, so you'll also need to anticipate the need for resources dedicated to keeping your business running during development.
Development projects can take months to years to complete. This is absolutely worth it for software that will make or save you money — the key is preparing and knowing ahead of time what you're getting into.
Potential discouragement from trying again if you fail once
Because of the high cost and effort required to create a digital product, you'll want to get it right the first time. Failure can take a toll on your drive and even your bottom line. You may not have the resources or energy to try again if unsuccessful.
The morale of your company and other stakeholders in the product's success
Everyone involved in the project has something at stake, whether it's your employees who have to adjust to a new set of technology or investors taking a chance on your new product idea.
Be confident of success before you commit. The negative results of a failed project can have far-reaching effects on your business.
Clearly, digital product development is not a slight matter.
It's critical to think through the size of your investment, what qualifies as a worthwhile return and who you can trust to get you through to the other side.