SERVICES | CUSTOM WEB PORTAL DEVELOPMENT
Great things happen when people connect online.
The right custom web portal can grow sales, improve customer service, and streamline content distribution – but you'll need the right team on your side to help those pieces fall into place. That's where Praxent's B2B web portal development services come in.
Social and web portals offer real value – when executed with care.
Social networks and web portals have proven that one-to-many information sharing, and remote collaboration can offer businesses tremendous value. But they can also pose serious challenges. How do you gain the benefits of more "openness" without weakening security, organizational autonomy, or brand standards? Without the right web portal development company on board, you risk building a solution that fails to drive adoption.
When you hire Praxent, you can rest assured that the tricky questions will be taken care of. Our thorough process of creative vetting, testing, and reporting will ensure that you have total transparency and ability to change details as your business needs evolve.
From agile enterprises to visionary startups, Praxent helps service-based businesses with custom web portal development.
PARTIAL CLIENT LIST
How can your business benefit from developing its own web portal?
An experienced B2B web portal development company can help you harness the power of social business networks, either as the platform for a new commercial service offering, or as an asset that helps you run your organization more effectively.
Schedule a call
20 years of knowledge and expertise, applied to your custom needs.
We're not in the business of copying and pasting projects from client to client; we're here to create the custom web portal you need to grow your business. We've been in business for almost 20 years and have 300 successful projects under our belt, and are here to stay with a commitment to making your project as impactful as possible.
Some classic implementations we provide for our clients include:
Support for multilingual and internationalization
Mobile responsive layouts
Multi-level customizable user permissions
Integration with key business systems
Flexible content management tools
Powerful user management tools
Modern and pragmatic security practices
Performant, user-friendly search functionality
Complete design flexibility
"The level of sheer intellect shown in their way of thinking about problems added tremendous value and saved us time. Praxent thought through all issues ahead of time before letting us run into them."
LYNDA ATTAWAY, FORMER SVP, OPERATIONS & IT, NRG
"Stakeholders anticipate the visual appeal of the new designs to be above and beyond the current product. Praxent has maintained a concise, clear communication style throughout the engagement. Their expertise allows them to provide useful insight, and their detail-orientation stands out."
CAROL ALTMAN, SVP STRATEGY, BENEFIT HARBOR
Praxent trained us well and gave us all of the skills we need to be successful. The internal UX team is now skilled enough to improve CX on their own. Since working with Praxent, mores users can access the self-service, and call rates have decreased, signifying an improved UX. Praxent's team was friendly and easy to work with. They're highly recommended.
KEN IVIE, SENIOR IT MANAGER, TEXAS MUTUAL INSURANCE
The body of work they produced under our circumstances was no joke; they did a fantastic job. Although we had so many stakeholders with varying cultures and priorities, Praxent's team was helpful in mediating between our partners.
BEN GAMMON, VP OF PRODUCT, BUNGALO
Praxent gives us weekly updates, so we always know where we are. They've always hit their dates and goals. I couldn't have asked for better communication, and the project is exactly what we were expecting it to be. They've blown us away with the design, and truly listened to what we and our customers said. It's a great product that they're rolling out. It's going to be a huge game-changer for our company.
CAROL LANGE, VOICE OF CUSTOMER, SIGNATURE HOMES
We're not just about the code. We're about providing you with a digital advantage.
To survive in today's digital marketplace, businesses need to evolve if they want to survive – and that includes yours. If you're thinking that portal development could be a path for your company to innovate, get in touch with us.
You don't want just any web portal development service on this task – you want a partner that can help you chart your business's roadmap to a competitive edge, and is as invested in the look and feel of your product as you are. Don't just build a web portal – innovate your business to the next level.
Schedule a call
We've been doing this awhile.
And our clients trust us to keep delivering for them.
300 software transformations delivered since we started in 2000
Fast-moving team of 70+ designers and engineers
4.8 (out of 5 star) client satisfaction rating
We specialize in financial services.
Learn more about our expertise in all things web portal
Finopotamus has assembled a panel of experts in a recurring series, The Industry Leaders Forum (ILF). Each…
New borrower portal drives efficiencies, boosts conversions Praxent, a fintech product agency with more than two decades…
ISI partners with Praxent to help insurers boost efficiency, retention, and customer acquisition Praxent, a financial services…
DOWNLOAD
Pricing Guide
To give you an idea of what your investment might look like, we've put together a downloadable pricing guide that includes pricing estimates by product type, set-priced starter engagements and information on what impacts the price of your product and tips for saving money.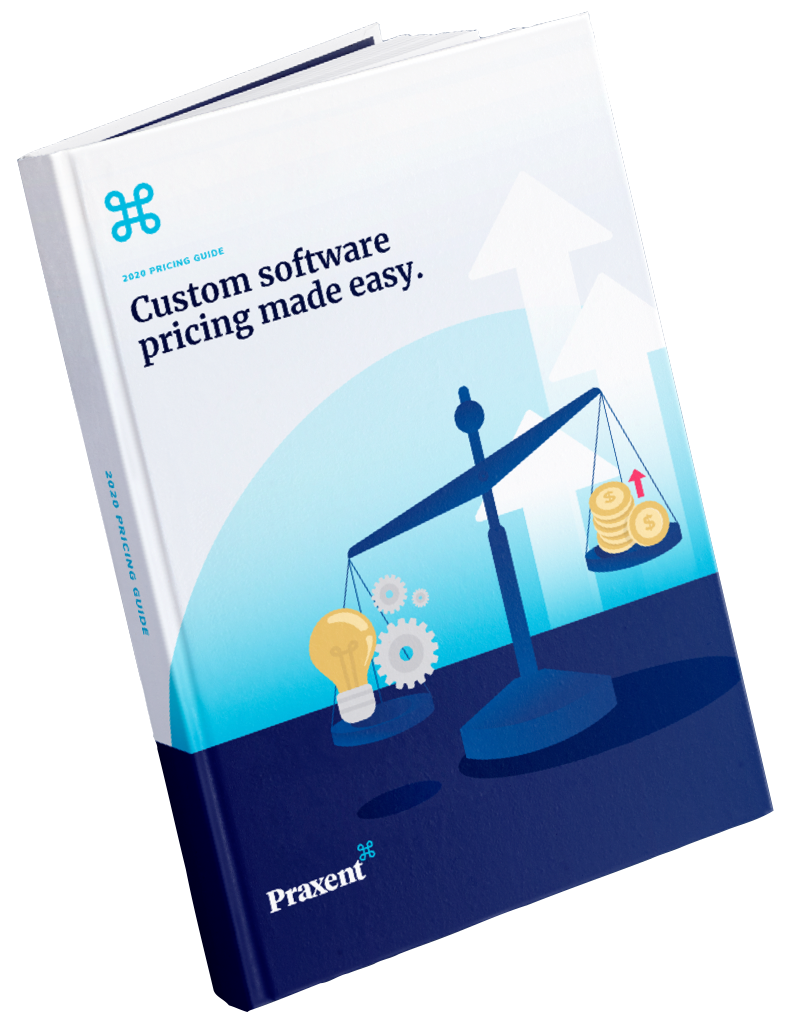 Let's develop your customer-facing software together.
See how you can delight your customers and grow your business.
Schedule a call