FRONTEND DEVELOPMENT
Frontend application development that's flexible and functional.
Whether you're looking for frontend development services in a particular technology, or you'd like us to help you choose the technology that best suits your short-term needs and long-term interests, we're here to serve you.
We can even build your entire frontend without touching your backend systems.
Our company's frontend developers specialize in:
A fast-moving, transparent Agile Development team your company can count on.
Quick wins
See actual ROI in weeks, not months.
Top talent
Senior tech leads direct every project.
Total ownership
You'll own 100% of your code, and we'll never hold you hostage.
Not sure which technology is right for your project? You're in the right place.
We build your application in the frontend technology that meets your exact needs, and will help you modernize and enhance your customer experience so that you can compete with confidence.
This means if your firm already has a frontend development solution in mind, we'll lean in to support your dev strategy. If you don't, we'll help you decide on one.
But before we recommend any technology, we dig into the details of your people, processes, and existing stack.
Do you have a frontend app development team, and do they already have expertise in a given framework or library?
Will your current backend and/or full stack developers support the product long term, or will you hire dedicated frontend expertise?
Are you modernizing existing software, and if so, are you iterating page-by-page or module-by-module?
Are A and/or AA accessibility standards a prerequisite for definition of done?
What is your mobile strategy and roadmap? How will your web and mobile applications complement each other?
We then combine the insights we gain from you with our deep knowledge of technology and the latest marketplace trends to approach your frontend development project in a way that best meets your unique needs and goals.
"In our industry, it can be challenging to stand out. When the coverage features and many of the benefits from carrier to carrier are similar, you have to find ways to rise to the top. So how do we make ourselves stand out? Through innovation, through the look of the portals, through the ease of doing business and [members] feeling like we are investing in them and their experience with us."
Shelly Ursini, VP of Business Development and Marketing, Integris Group
Your software application is one of your biggest business assets.
Shouldn't you trust it to a collaborative team of technical experts who know your industry; understand your business goals; and are committed to working within constraints to deliver a successful outcome for you, your internal team, and your users?
On-time, every-time delivery
Fixed budget = Total confidence and no surprises
Generating ROI early and often with small, incremental releases
Seamless integration with your internal development team
Predictability and transparency thanks to frequent updates and demos
Ownership and control through collaboration with a dedicated Delivery Lead and Senior Tech Lead
As an Agile company, we give you the freedom to change requirements as often as organizational changes dictate
Saved money and shorter time to market by modernizing rather than rebuilding
Effortless transfer thanks to clean, well-documented code
Delighted customers, increase profitability, compete with confidence
What technology do you have in mind?
When it comes to recommending technology for frontend development services, we don't recommend our favorites. Instead, we leverage insights from rigorous market research to inform technology recommendations that ensure
React
The basics
React is a JavaScript library that was created by Facebook. It's all about configuration, meaning you get to go "under the hood," decide what components you want, and specify how they all connect together. You're in control—you can make it exactly what you want it to be. React is overwhelmingly the go-to frontend development choice among software product companies (and developers) around the world.
Consider React if…
You're looking to build a high-performing, user-friendly application that will dramatically transform your customer experience, as well as one that is interactive, streamlined, and able to support applications of varying complexity.
You intend to rely on the application for years to come or plan on hiring developers one day to support the application internally. Widespread adoption by developers means more developers working in React, which provides access to a broad talent pool for your company when hiring more frontend development resources down the road.
React is a top frontend app development choice for projects with complicated user journeys or client flows, and excels at powering the data behind them.
---
Vue
The basics
Vue is the "new kid on the block." It's community sourced and based on model-view-controller architecture. Vue is lightweight and versatile, which makes it a popular choice among financial services firms and frontend development experts alike.
Consider Vue if…
You're looking for a performance boost or a targeted feature update; if you're trying to modernize the technology or the user experience of your outdated application; if you want to start small, but still have the capability to go big.
Your developers are full stack as opposed to specialized in backend and/or frontend app development. Because a single full-stack engineer can more easily maintain the frontend as well as the backend, Vue is a remarkably affordable long-term option when compared with React and Angular, which have much steeper learning curves.
Vue is a top choice for modernizing your outdated application or SPA, creating a more interactive experience, or adding new features to enhance an existing application.
---
Angular
The basics
Angular is a frontend app development framework that was created by Google. It's full featured for when you want everything "pre-loaded" and is time tested as the first major Single Page Application to be adopted by the dev community.
Consider Angular if…
You're a large enterprise looking to build a robust system to support your in-house operations or a forward-facing progressive web application.
You want a fully configured solution so that your developers can focus more on building the application features, and less on building out the application infrastructure. Often used in the enterprise, Angular's full-featured approach provides tools for dealing with the vast majority of developer use-cases when building modern web applications on the frontend.
Angular is a solid frontend application development choice for supporting large-scale, complex workflows and dynamic applications.
---
Security is extremely important in our line of work.
We know it is in yours, too.
You're likely concerned about the idea of giving an outside team access to your backend systems, which contain highly sensitive information such as your business logic, customer data, and intellectual property.
We get it. Your security is very important to us too. So much so that we've composed our team and built our processes to work embedded in your process, and that includes any security standards you have in place.
When it comes to development, we can build your entire frontend without ever touching your backend systems. We achieve this by building a "middleware" layer, which is a lightweight interface that takes care of sending only the data we need from your backend to your frontend. So, all of your backend information, data, and IP stay secure.
Additionally, because we don't have to spend any time learning your business logic, we can stay focused on building out your product roadmap, which means we can deliver much faster while also saving you money.
"I was so impressed with their knowledge. I also think it helps that they had had some experience working with other MPL carriers, so they were familiar with our industry terminology. They knew what we were trying to accomplish, which made it so much easier for me because it's a daunting process to put all of this together."
Shelly Ursini, VP of Marketing & Business Development, Integris Group
What would you like to build?
We've built a wide variety of platforms and applications for our clients—from interactive broker and producer dashboards, to financial advisor portals, to lending application and fulfillment platforms. We're also pros when it comes to frontend modernization efforts, giving fresh functionality, look, and feel to outdated systems. We're here to serve you with a wide variety of frontend app development services:
Complex workflows and large data sets
Our agency's extensive experience in frontend development allows us to offer rich user interfaces with hyper-fast performance and outstanding UX. We've built interfaces that can support complex and intricate workflows for end users and enterprises alike, as well as handle large data sets:
Loan Origination Systems
On-boarding and enrollment workflows
Real Estate Listing Systems (MLS)
Investment Fund Performance
Employee Benefits Enrollment
and plenty more
Customer-facing front end applications
You depend on your customer-facing applications too much for a complete rebuild. We can lower your risk by improving your frontend and user interface instead. We refurbish applications to be used and enjoyed more seamlessly across a wide variety of platforms and devices, presenting a modern experience to users throughout every step of their journey.
Learn more about our application modernization capabilities.
Integrated systems
Don't neglect your company's internal systems; they're important, too. We're here to support your business by creating and updating robust, fast, and dependable internal systems. Support the work your key employees and users do with applications to help you visualize data, manage content, and increase productivity.
Interactive SPAs
Our frontend application development services include expertise in building Single-Page Applications (SPA) for our clients. Latest technologies like this offer the exceptional user experience customers have come to expect. Don't get left behind with out-of-date interfaces.
What would you like to do next?
Why stop at the frontend when there's so much more we can build together?
You don't have to be an expert in frontend application development, but you don't have to completely hand over the reins to us either.
Wherever you are in the process of updating or building your application, we'll provide just the help you're looking for. Here's how it works in most engagements:
1. Start small
There's no need to rewrite your entire application—we'll do it incrementally. Small projects = quick wins.
2. Build together
We build your frontend, and we build a middleware backend, which never touches your business logic or data. You build RESTful API endpoints with our help.
3. Own the outcome
Working alongside your team, we deliver your application in 3-4 months instead of 9-12, and you'll start seeing results from your dramatically improved digital customer experience from day one. 
You are the expert on your operation. Let us turn your expertise into growth.
We've been doing this awhile.
And our clients trust us to keep delivering for them.
300 software transformations delivered since we started in 2000
Fast-moving team of 70+ designers and engineers
4.8 (out of 5 star) client satisfaction rating
We specialize in financial services.
If you have built applications that no longer meet your customers' expectations, we can help you modernize them so you can remain relevant against born-digital competitors.
What You Can Expect
Successful engagements with our front end development services include:
Direct access to an empowered project champion and any of your development resources
Investments of $100K to $1M, including strategy, design and development
DOWNLOAD
Pricing Guide
To give you an idea of what your investment might look like, we've put together a downloadable pricing guide that includes pricing estimates by product type, set-priced starter engagements and information on what impacts the price of your product and tips for saving money.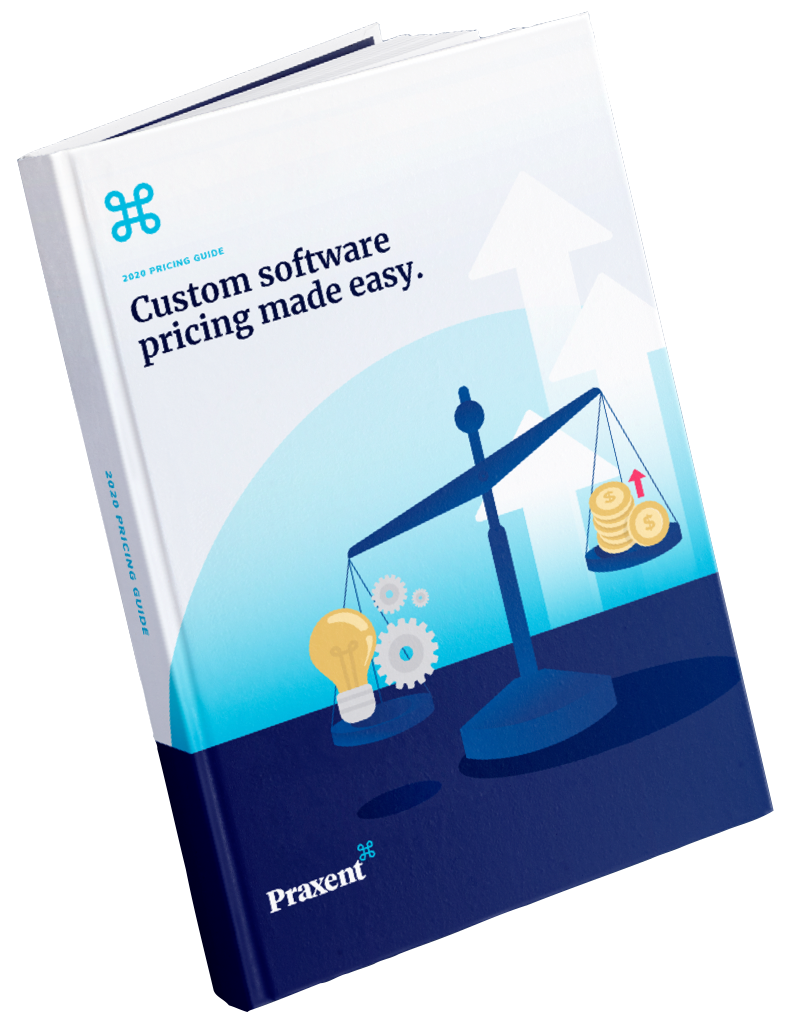 Learn More About Our Expertise in Frontend Development Services
Finopotamus has assembled a panel of experts in a recurring series, The Industry Leaders Forum (ILF). Each…
New borrower portal drives efficiencies, boosts conversions Praxent, a fintech product agency with more than two decades…
ISI partners with Praxent to help insurers boost efficiency, retention, and customer acquisition Praxent, a financial services…
Let us help you lead the effort to modernize, rather than rebuild, your firm's outdated customer-facing software applications.
Dramatically improve your digital experience. Serve your customers better. Increase retention and profitability.
DOWNLOAD
The Four Reasons Software Modernization Fail
(and Twelve Strategies for Success)