Design driven by data, not ego.
"Flexibility" probably isn't a word you're used to hearing from design agencies, even though it's likely high on your priority list. Our company's design strategy experts specialize in serving established, mid-market financial services firms like yours. We're used to starting small, partnering with you on only the design services you need—whether it's an evaluation of an existing system, a ground-up UX/UI redesign, or ongoing design support—and making sure you walk away with an interactive prototype of your software product that's not only designed for your users but is ready to build.
Schedule a call
Gain insights into customer wants + pain points
Identify + fix gaps in your customer journey
Prioritize features to increase customer growth + retention
Realize better customer engagement and seamless, personalized customer experiences that drive customer growth.
Focus on users
No matter where you are in the strategy phase, our company will help you design, talk to, and learn from your users.
Establish a foundation
You'll walk away with foundational deliverables like user personas, clickable prototypes, and digital style guides you can use to elevate your design practice going forward.
Designed to develop
All of our upfront software product design efforts are geared toward the development phase, with designers and engineers involved collaboratively in your project from the beginning, ensuring you can deliver a seamless digital experience.
Our design team is dedicated to delivering value to your business from day one.
Increase customer retention
25% profitability increase with just a 5% improvement to customer loyalty.

1

31% of customers regard their interactions with brands as merely transactional.

2
Increase new customer sales
32% more revenue growth by design led companies compared to their competitors.

3

56% more total shareholder returns growth by design led companies compared to their competitors.

3

35% of customers are willing to pay more for a seamless experience.

2
Reduce customer service costs (self service)
64% of customer service calls are the result of a UX failure.

4

36% of customer service calls do not require customer service.

4
Explore our design services
"Our UX team is up and running and is working every day to improve customer UX. Praxent trained us well and gave us all of the skills we need to be successful. More of our customers are able to use our self-service, and we've experienced a 30% reduction in call volume. Our net promoter score has been fantastic since working with Praxent—it's about 80."
Ken Ivie, Texas Mutual Insurance
Design your software product like it's one of your biggest company assets.
Because it is. Trust it to our company's collaborative team of design strategy experts who know your industry; understand your business goals; and are committed to working within constraints to deliver a successful outcome for you, your internal team, and your users.
Create an interactive prototype you can test and validate with real users
Modernize your digital product rather than design new or redesign
Base your UX/UI designs on real user data
Conduct user research that's actually useful
Establish a design foundation your team can use for years to come
Enjoy seamless integration between design and engineering
Delight your customers, increase profitability, compete with confidence
Work with designers who know your industry and understand constraints
Be ready to build by collaborating with our software product designers and developers from the start
Experience design sprints that deliver ROI right away
What you don't know before you build can hurt your project—and your budget.
When you have a great idea for your new or existing application, it's tempting to move straight into build mode. But if you do, your chances of failing—running out of money, never finishing, building something no one wants—can be quite high.
The cone of uncertainty outlines a simple concept related to estimating cost to build: The earlier in a project we create estimates, the less accurate those estimates are likely to be.
We find that starting with 'Why,' taking the time to carefully plan the details and creatively reducing the scope of the initial project will enable you to confidently navigate the cone of uncertainty —saving you money and wasted development time and ultimately, ensuring your company's software product is a success.
It might seem counterintuitive, but in order to speed up, great teams slow down. This means our company's design strategy team will take the time to carefully think through each interaction and every detail, thoroughly evaluating every requirement for feasibility and looking for the shortest path. This ensures you cover all your bases, and we share a clear "definition of done" before proceeding.

This includes making sure every decision is backed with real-user testing and research to validate assumptions.
"They specialize in the financial services industry, so they understood what we were talking about very quickly…They have a really good design team. I've been impressed with how well they can take our ideas and put them into action. They're creative, they hear our feedback, and they come up with unique ways to present data and create an experience on the platform."
Suzanne Werner, Executive VP, BlueStar Retirement Services
Design with user experience in mind.
How? Prototype and validate.
A study by Design Management Institute found companies with highly rated user experiences achieved "a 211% return over the S&P 500."* Failing to value digital product design means losing out to competitors with more intuitive websites and apps.
Throughout the user experience (UX) design process, we focus on turning user insights into software that works, wins, and wows. Our UX designers collaborate with our skilled engineers from day one as we sprint toward an interactive prototype of your software product's design—so you can build with confidence.
We have codified a repeatable course of action around rapid clickable prototyping called ClickModel® that leads to predictable outcomes and gives you peace of mind.
Start with a UX Audit
Product not performing? Don't guess. Know how to improve your user experience.
The purpose of a user experience (UX) audit, also known as a heuristic evaluation, is to measure aspects of your user experience against industry best practices based on user patterns.
You'll know what to fix and what not to fix about your digital product design quickly, based on objective data. So you can address them in house or as part of a longer design strategy consulting engagement.
User interface design that establishes consistency and builds trust.
In the user interface (UI) design phase, we'll ensure your user experience is exactly what you want it to be visually—before you build.
Our UI design experts will help you establish a consistent design standard across all of your digital assets—and deliver style guides, wireframes, and working prototypes to help you implement it—so you can empower your team, build user trust, and gain competitive advantage.
Already have an in-house design team?
We'd be more than happy to work alongside them and integrate our processes and skill sets with theirs.
Our agency's digital product design and development team can provide your existing staff with additional horsepower to meet a short-term project need or be available for long-term design support. So you get senior-level experience whenever and however you need it without the hassle, commitment, and expense of adding full-time hires.
Here's what you can expect investment-wise.
DOWNLOAD
Pricing Guide
To give you an idea of what your company's investment in software product development might look like, we've put together a downloadable pricing guide that includes pricing estimates by product type, set-priced starter engagements and information on what impacts the price of your product and tips for saving money.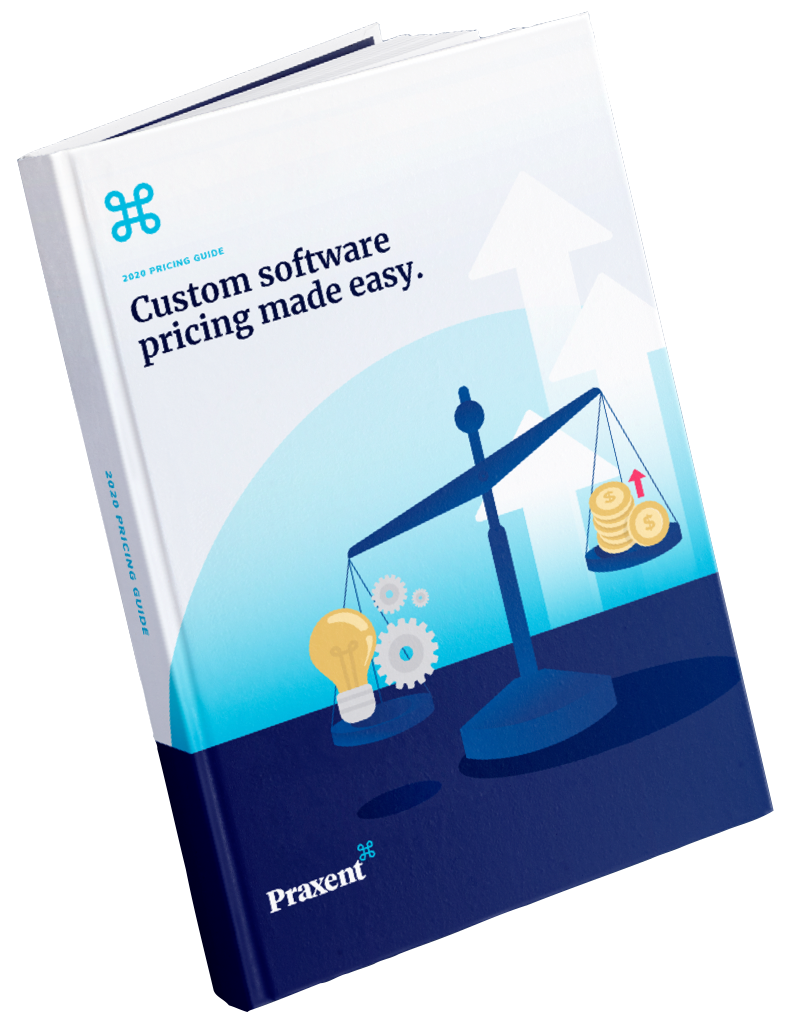 Ready to put this software product design and development company to work for you?
Schedule a free, no-obligation call today to discuss your project or staffing needs.