Defining Custom Software Development
What is custom developed software, and how can your business benefit? We dive into the details behind the definition.
What Is Custom Software Development?
Custom software development is a lot what it sounds like. We define custom software as an individualized software solution developed to meet an organization's specific needs. Custom software solutions are unique, innovative solutions with capabilities and features beyond anything provided by a standard or off-the-shelf solution.
Typically, a business chooses to build a customized software solution in-house, or to outsource the development to experts who have the tools and skill sets to complete a project from start to finish. While choosing custom software development requires an investment of both time and money, it results in an invaluable end product that can bring great ROI and is exactly what your company needs.
Custom Software Development: The Details Behind The Definition
Custom solutions are designed with the company in mind and targeted at a specific need or set of needs. While custom software development's exact meaning can (and will!) shift depending on the company and their individual requirements, custom software's definition can include any of the following:
A unique solution serving as a competitive advantage
A way to solve previously-unsolvable business problems
A new source of revenue
A brand-building tool
An interactive engagement tool
A major boost to efficiency and productivity
A way to integrate and consolidate data, systems, and processes
Why Choose Custom Software Development?
There are many reasons why a company would opt for a custom software product over an off-the-shelf solution. One of the main reasons is that the out-of-the-box functionalities of a commercial product simply do not meet all of the requirements of the company. Another driver in choosing custom software development is a desire to innovate. Custom software is a good solution for any company with a business-first mentality.
Achieve Advantage
Achieve a competitive advantage
Solve a business problem
Create a new source of revenue
Offers customers a new capability
Improve Processes and Productivity
Combine multiple systems and internal processes
Boost speed, efficiency and productivity
Improve data integrity and accuracy
Implement scalable, flexible, adaptable solutions
Custom software development can provide major gains for both your business and your customers.
---
Free Budget Planning Guide for Apps & Software
Dependable estimates are critical to making sure your app delivers a return on investment. When it comes to budget and timeline, application builds created around faulty guess-work are likely to fail.
Download our free whitepaper on how to accurately estimate cost-to-build, and learn how planning can be predictable as well as flexible.
---
Will Your Business Benefit From Custom Software Development?
Custom software development is appropriate for any innovative company with a results-first mentality. Companies wondering whether or not it's worth the time and investment to develop their own software solution can ask themselves several questions prior to engaging in a project.
Do we want to expand our business? Do we put our business first, and are we focused on results?
Do we want to innovate? Would a new functionality or capability improve our competitive stance?
Are any of our processes slow, inefficient, manual or disjointed? Do any of our processes no longer meet our needs?
Are we relying on multiple software applications to do one thing? Would we benefit from integrating any of our existing systems?
Do we have an effective, easy-to-use, consolidated platform to communicate with each other and customers? Would our data be more accurate with an automated solution?
Do we have an idea that isn't easily accomplished with existing, out-of-the-box solutions?
If the answer to any of the above questions is yes, it may be time to stop asking "what is custom software development" and start thinking about getting custom software developed.
Getting Started With Customized Software Development
While off-the-shelf software has its place, investing in custom software development clearly has advantages. Custom software can offer a high ROI that is often felt immediately.
Want to know more about what customized software is and what it could do for your business? Talk to experts who build custom software for a living. Interview multiple providers and be sure to find a team who will take the time to listen to your needs, work with you on an optimized design, and develop your solution using best practices and transparent communication.
---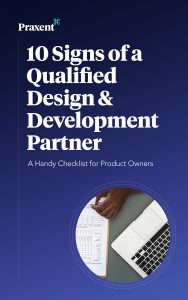 Building a new digital product or modernizing an existing system is a huge endeavor–only healthy teams of seasoned experts can properly manage the job with success and be trusted to help you shoulder ownership of the outcome.
>> Download the e-book for a helpful list of partner qualifications, from technical to cultural, and more.
---