DESIGN | USER INTERFACE DESIGN
Establish consistency and build trust through user interface design.
Establish a consistent design standard
Move confidently into development
Build user trust + improve satisfaction
Gain competitive advantage
Do you want to improve your user experience (UX)? You're going to have to address your user interface (UI) design.
Don't know where to start? Don't worry; we've got you covered.
1
When you work with a UI design company that helps you establish a modern, consistent design standard across all of your digital assets—
2
and delivers style guides, wireframes, and working prototypes to help you implement it—you can move forward with confidence.
3
Empower your team, build user trust, and gain competitive advantage with our UI design services.
"What does designing a user interface have to do with building trust with our customers?"
Picture this: Your firm has spent the past six months working tirelessly to research, plan, and design your new customer-facing software application. Now, you're ready to build.
Except development takes way longer than it should because your UX designs aren't feasible. Early testing reveals user frustration over buttons that don't look the same and confusion over tasks that don't appear to work.
When you neglect user interface (UI) design, user experience suffers.
When your application design is outdated, messy, or inconsistent, users lose trust in your ability to provide them with the services they need, and they go elsewhere.
You need a UI that's as fresh and modern as your UX so you can gain competitive advantage.
You need a UI design agency with proven experience in your industry to help you establish consistency and build trust through user interface design.
Start with a UX Audit
Good user interface design:
Builds Trust – by establishing consistency—including preferred colors, fonts, and visual treatments to brand the experience—that you can carry throughout your digital assets.
Enables Testing – by designing before you build, providing you with tangible artifacts, such as style guides, wireframes, and working UI design prototypes you can get feedback on from company leadership, your team, and users.
Increases Customer Retention – by increasing user satisfaction with your brand because of the "wow" factor of your design. Users see you as fresh and modern..
Ensures Alignment – by orienting your company and our UI design experts around a definition of done and ensures your desired style fully comes to life. Increases Feature Usage – by ensuring the design of your platform matches the improved functionality.
Saves Money – by reducing uncertainty and unnecessary changes in development, saving you time and money.
Improves User Productivity – by ensuring ease of use, enabling self-service, decreasing time spent on tasks, and reducing errors.
Do you know how to establish consistency and build trust through UI design?
Do you know how to design the best possible user experience at every stage?
Name the top 5 things your customers love or hate about your platform's user experience.
Can you support your answers with objective data?
1
Match User Expectations
Jakob's Law states: "Users spend most of their time on other sites. This means that users expect your site to work the same way as all the other sites they already know."1
Most people don't know what they want when it comes to experiencing an application or platform, much less how to verbalize it. They just know what they've seen on the sites they use most often.
2
Match User Behaviors
The rest of Jakob's Law states: "Design for patterns for which users are accustomed." If you don't know the patterns your customers are accustomed to, you can't design for them, and your user experience suffers.
When you invest in user interface (UI) design services, you establish a consistent look and feel—and ensure your user experience is exactly what you want it to be visually—before you build. This saves you time and money in development and improves user trust and satisfaction, which helps you gain a competitive advantage.
Discover how to become a experience-centered product company
I would be surprised if, in the first 12 months, we didn't have at least a two-to-one ROI. In fact, it will likely be better than that because our UX was really bland before this. Now, it is legitimately night and day. When the UI/UX is released, it will absolutely be a completely new experience that will be worlds better.
SVP, Strategy, Benefit Management Solutions Provider
The team at Praxent told me the top five things we should be doing to improve user experience. They listed major, high-impact things but also low-hanging fruit that could be fixed without pulling everything out by the roots and starting over again. I trusted they understood and were experts in UI/UX. I also trusted their project management expertise and the plan they had for how to move forward. Choosing them was a no brainer.
VP of Client Services, Benefits Administration Platform
What is included in our user interface (UI) design services?
In the user interface (UI) design phase, we'll take assets you already have or we created and establish the visible, "surface layer" of your user's experience.
This includes:
Developing a digital style guide. This contains things like standard font choices and colors as well as button, form inputs, and navigation menu styles—all of the visual components that make up the user interface design and represent your company's unique brand.
Producing high-fidelity screen designs. Essentially we take a key workflow from your user experience design and apply full color to it to make it look like it will when it's finished. We'll express these designs on key platforms from desktop to mobile.
Turning the screen designs into a working prototype. This makes our ideas tangible so we can validate them and make refinements iteratively. It helps you make better decisions about improvements so you can save your investment going into development.
Additional UI design services. These include empowering your in-house design team through staff augmentation or partnering with you to conduct user research and user testing.
You don't have to be an expert in UI design to create a consistent visual experience.
Whether you're planning to build new software or rebuild or modernize your company's existing software, good user interface (UI) design is vital. Let our UI design agency work with you to create style guides, screen designs and interactive prototypes, so you know exactly how to establish consistency and build trust through UI design.
Here's how it works:
START WITH STRATEGY
We listen to understand the design assets you have, the gaps that cause slow-downs, and the improvements you envision. Our agency consults with you to  identify UI solutions that address your needs and augment your capabilities.
DESIGN YOUR USER INTERFACE
Our UI design company's experts take these insights and partner with you to establish a consistent design standard through digital style guides, high-fidelity screen designs, and a working prototype.  
TEST + BUILD WITH CONFIDENCE
Now that you have a clear design direction that will build user trust and improve satisfaction, you can either conduct additional user research and testing or move forward into development with confidence. 
Validate Your Design through Rapid Prototyping
In a hurry to launch or update your digital product? What if there was a way to quickly validate your design first?
Reduce risk and save time and money in development.
Establish the design direction of your project by visualizing and testing your idea before you build or update it.
Make more informed decisions, and launch your minimum viable product or enhance your existing product much faster.
With an interactive ClickModel® UX software prototype, you can build with confidence.
Start with a UX Audit
Product not performing? Don't guess. Know how to improve your user experience.
Product not performing? Don't guess. Know how to improve your user experience.
The purpose of a user experience (UX) audit, also known as a heuristic evaluation, is to measure aspects of your user experience against industry best practices based on user patterns.
You'll know what to fix and what not to fix about your company's user experience and interface design quickly, based on objective data. So you can address them in house or as part of a longer UI design service engagement.
DOWNLOAD
Pricing Guide
To give you an idea of what your investment in our UI Design services might look like, we've put together a downloadable pricing guide that includes pricing estimates by product type, fixed price starter engagements and information on what impacts project budget and tips for saving money.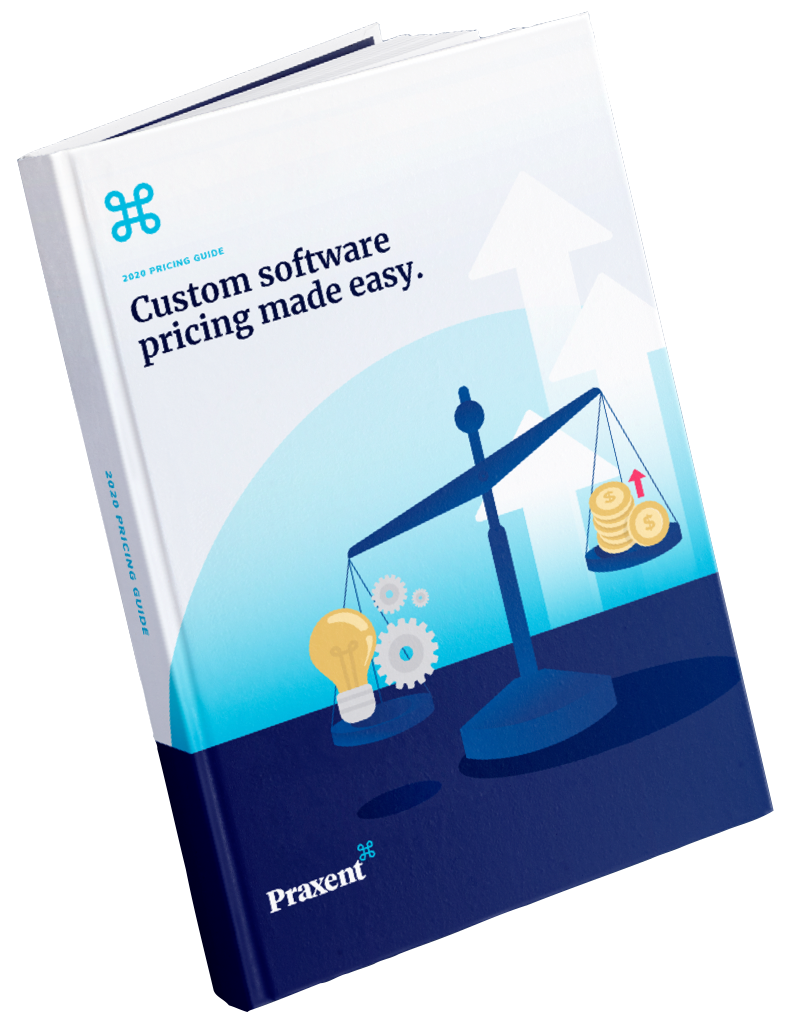 We've been doing this awhile.
And our clients trust us to keep delivering for them.
300 software transformations delivered since we started in 2000
Fast-moving team of 70+ designers and engineers
4.8 (out of 5 star) client satisfaction rating
We specialize in fintech services.
If you have built applications that no longer meet your customers' expectations, we can help you modernize them so you can remain relevant against born-digital competitors.
What You Can Expect
Successful UI design service engagements include:
Direct access to an empowered project champion and any of your development resources
Tailored engagements across our Design and Develop services.
Investments of $40K to $250K, including strategy and design.
Learn More About Our Company's Expertise in User Interface Design
NXTsoft and Praxent form API Partnership to Help Fintechs and Financial Institutions Deliver A Superior Digital Customer…
FSI Member Spotlight Episode #11: Carpe Diem for Credit Unions  In a recent FSI Member Spotlight, Praxent…
Praxent Honored by Digital.com as one of Best Mobile App Developers in Austin Digital.com recently published a…
Let us partner with you to establish consistency and build trust through user interface design.
See how you can delight your customers and grow your business.